June 21, 2001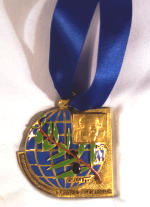 "SITIA" Extra Virgin Olive Oil, a product of The Union of Agricultural Cooperatives of Sitia, Crete, Greece achieved a very important distinction. It was unanimously awarded first prize in the International Olive Oil competition organized by the International Council of Olive Oil.
This official competition aims at improving the position of olive oil with superior organic characteristics, as well as at assisting consumers to choose on the basis of qualitative criteria.
The award was presented by the Executive Director of the International Council of Olive Oil, Dr. Fausto Luchetti at a special ceremony, which took place at Aix-en-Prοvence, France, on June 13, 2001.
Mr. Manolis Vakondios, the President of Sitia Coop, who received the award, made the following statement: "We derive great pride from this prestigious International award, because it recognizes the efforts of olive oil producers who invest in quality as well as the people of the Sitia Cooperative. It gratifies us in that it recognizes the superiority and potential of Sitia olive oil and Greek olive oil in general."
The competition was held in Madrid in May of this year with numerous participants from olive oil producing countries (Spain, Italy, Portugal, Tunisia and France). The samples were rated by an international panel of expert tasters who employed the blind tasting method.
It is worth noting that Greece produces almost exclusively premium quality olive oil (85 – 90% of its olive oil production is extra virgin whereas none of the other olive oil producing countries exceeds 50 – 60%).
Greek olive oil is world renowned and sought after because of its organic characteristics, its superior taste and aroma and its invaluable contribution to health and nutrition.