Our Policies

Privacy Policy
Shipping Information
Sales Tax
Return Policy
---
Privacy Policy
SitiaOnline has created this privacy statement to show visitors our commitment to respecting their privacy. We want our users to be aware of any information we collect, how we use it, and under what circumstances, if any, we disclose it.
Use of information by SitiaOnline
We collect and use information throughout our website only as disclosed in this Privacy Policy. Any information we collect is:
used to improve the content of our web site

used to notify users of updates and new products

never shared with other organizations
In order to browse this site, visitors are not required to register. We only require registration for users who would like to receive our monthly newsletter and for those who wish to order products.
When we receive certain types of sensitive information (such as credit card numbers) in order to process orders, we redirect users to a secure server powered by PayPal.
We do not believe in sending unsolicited email ("spam"). If you are a registered user and wish not to receive email from us in the future, simply let us know by sending us an email at newsletter@sitiaonline.com and type "Remove" in the subject line.
Links
This site contains links to other web sites. SitiaOnline is not responsible for the content or privacy policies of such web sites.
Notification of changes
If we decide to change our privacy policy, we will post those changes on this page.
Conflict resolution
We are committed to resolving disputes as soon as possible (usually within 24 hours). If problems do arise, users may contact us by email (helpdesk@sitiaonline.com).
Contact information
If you have any questions about this privacy statement, the practices of this site, or would like to update any information provided, you may contact us by email (info@sitiaonline.com) or at:

SitiaOnline.com
℅ EVOO, Ltd.
PO Box 2039
Hempstead, NY 11551
Shipping Locations
Currently, SitiaOnline.com can only ship to addresses in the United States, but no PO Boxes.
Shipping Method
Shipments sent within the United States are sent via UPS Ground Service. It is a prompt, dependable, low-cost delivery service that reaches every address within the 50 states and Puerto Rico.
Shipping Rates
The following chart should be used to determine the shipping cost for your order. All orders are shipped from our New York facility by UPS.
| | |
| --- | --- |
| Order Value | UPS Ground Charges |
| $0.01 - 20.00 | $15.00 |
| $20.01 - 50.00 | $18.00 |
| $50.01 - 75.00 | $24.00 |
| $75.01 - 100.00 | $30.00 |
| $100.01 and up | $40.00 |
Order Processing and Delivery Times
Orders are usually shipped within 48 hours. Allow 4 - 6 days for delivery of your order. Please understand that at times, delays may occur due to weather, availability, or other conditions. We will do our best to inform you of any potential delay in shipping your order.
UPS Ground Shipping Map
Refer to the map below to determine the number of business days it takes to transport a package using UPS Ground Service.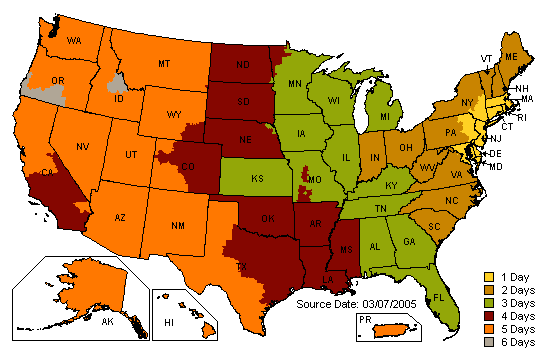 Tracking Packages
When you place an order, we will email you an order confirmation that will include a UPS Tracking Number. To track your package, enter that tracking number on the UPS Package Tracking web site.
Shipping to Multiple Addresses
Only one shipping address is allowed per order. If you would like to send items to multiple locations, please order separately for each shipping address.
Sales Tax
SitiaOnline.com (EVOO, LTD.) only collects sales tax on orders being shipped to addresses within New York State. There is no tax collected for orders shipped outside of New York State.
Return Policy
We guarantee that the products our customers order from us will arrive in excellent condition. In the rare event of damage, we will issue either a credit or replacement. We ask that all boxes and packaging materials be saved until the problem is resolved. Please do not return any products without prior authorization from out customer service department. To contact customer service, send an email to helpdesk@sitiaonline.com.