The Martha Stewart Show ~ The French Chef Show
On Friday, March 28, 2008 The Martha Stewart Show featured three of America's top French Chefs - Eric Ripert, Jean-Georges Vongerichten and Daniel Boulud. Chef Ripert is the internationally acclaimed chef and co-owner of Le Bernardin in New York City, one of the world's most renowned restaurants. SITIA 0.3 is the chef's olive oil of choice and is currently used at the restaurant.
Martha and Chef Ripert prepared a braised halibut with peas a la francaise and a refreshing arugula and artichoke salad. He referred to Sitia 0.3 as "an amazing olive oil from Greece... very fruity, no bitterness at all." Martha also commented that she loves Greek olive oil, as "it is very low in acid... tastes like olives."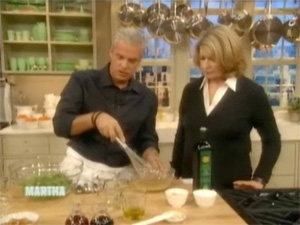 Click on the screenshot above to be
redirected to the video of the show